Grand opening on May 19th (Tuesday) in Otsuka, Tokyo! With a repeat rate of over 60%, the "Osaka Yakiniku Hormone Futago Otsuka store" is a hot topic in "Specialty!
FTG Company (Headquarters: Meguro-ku, Tokyo, President: Jun Tetsu Lee), which develops "Osaka Yakiniku Hormone Twins" worldwide, is the 66th Osaka Yakiniku Hormones Twingo Otsuka in Otsuka, Tokyo. The store will be opened on Tuesday, May 19, 2020.
The "Osaka Yakiniku Hormone Futago" was founded in 2010 by a representative and vice-president of "Futago" who is from Osaka. We have opened our first store in Gotanda, Tokyo, and have opened 65 stores (as of April 2020) in Japan and overseas, mainly in the Tokyo metropolitan area as of the 10th year since our establishment. Aiming to become the world's most memorable yakiniku restaurant, with a menu with rich individuality and a service with a high level of entertainment that "enjoy with the five senses", we have grown into a popular restaurant with a repeat rate of over 60% and a membership of over 20,000.
We offer carefully selected beef and fresh hormones with 5 types of homemade secret sauce so that a wide range of customers can enjoy "Osaka Yakiniku Hormone Twins". Furthermore, our unique service styles such as "half the amount and half the price" and "to serve your meals" have been well received by our customers.
The Otsuka store will open in a corner of the shopping district, a 4-minute walk from the north exit of JR Otsuka station. At the north exit of Otsuka Station, new facilities are opened one after another while retaining the charm of a downtown atmosphere, and there are buildings, condominiums, and business hotels in the forest, but in the meantime, the mall that has been loved for a long time continues to expand. I am. We think that it can be used by many people, including local people, banquets for neighboring companies and small drinking parties after work.
New store information
Inside the store, there are menus of tabletop stoves and wooden bills that are nostalgic, and a large red lantern and lively staff welcome you.
■ Store name: Osaka Yakiniku / Hormones Futago Otsuka store
■ Location: 1st floor, 5th Ichita Building, 2-7-7 Kitaotsuka, Toshima-ku, Tokyo
■ TEL: 03-6903-4925
■ Access: 4 minutes walk from JR Otsuka Station
Business hours: May 19 (Tue) 17: 00-21: 30 / LO 21:00
After Wednesday, May 20, 11: 00-21: 30 / LO 21:00
* Business hours may differ due to the prevention of new coronavirus infection. Please check with the store when visiting or making a reservation.
■ Regular holidays: Open daily (excluding the beginning of the year)
■ Number of seats: 28 seats
■ URL:
http://www.yakiniku-futago.com/
■ Instagram: yakinikufutago.official # Osaka Yakiniku Hormone Futago

Recommended menu for "Osaka Yakiniku & Hormone Twins"
We will provide carefully selected beef along with the best entertainment with half the amount and half the price, with a focus on fresh hormones that have been carefully prepared.
The popular appetizer menu is "Specialty! Half-killed Kimchi" (meaning half crushed in Nagano dialect) 480 yen, egg + potato + 〇 "Futon potato salad" 480 yen. In addition to red meat, black Japanese beef and popular raw ton, there are more than 10 kinds of hormones only, over 100 kinds of dishes, from 〆menu "Omoni's homemade tail soup" 880 yen, "specialized bite cold noodles" 480 yen We have a wide selection.
As for drinks, we have a rich lineup of over 90 types, including original sour and 11 types of highballs.
Enjoy the time at the "Osaka Yakiniku Hormone Twins" that makes everyone smile, whether it's an office worker returning from work, a couple, or a family member.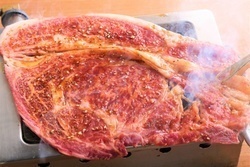 Specialty! Kalbi Wagyu's protruding ribs 1,680 yen (excluding tax)
"Futago" signboard menu! About 250g, the size of Japanese black beef rib roast sticking out of an iron plate. The most popular immovable place where you can enjoy 4 parts at once! Please enjoy it with the shouts! If you have Negipabo or Sanchu, the fun will spread.
* This menu is really red, so it is limited to reserved customers.
Twin meals 1,480 yen (excluding tax)
Five kinds of good toco sauce with bean jam, irresistible Mino, phantom halami, diced beef heart, and irresistible chin meat. Please enjoy with a special ponzu sauce. Even people who are not good at hormones can usually eat it! It is also very popular with women. You can't talk about "Futago" without eating this!
Specialty bite cold noodles 480 yen (excluding tax)
One of the most popular items on the menu! The finest soup made by boiling 8 kinds of ingredients for 8 hours is light but solid.
It is this secret soup sorbet that contains delicious soup so that it does not dilute. If you come to the twins, be sure to eat it, so please have an appetizer and meat at 9.9 minutes on the stomach.
About "Osaka Yakiniku / Hormone Twins" business
Business hours have been changed at all Osaka Yakiniku and Hormone Futago stores due to the government's declaration of emergency. Please contact each store for business hours.
■ Osaka Yakiniku / Hormones Twins store information URL →
http://www.yakiniku-futago.com/route_map/index.php
In addition, we have put up a "Declaration of Safety Measures" and have taken thorough measures to prevent new coronavirus infections for our employees. Customers will receive a bottle of "rubbing alcohol" with a free service for the next drink!
Energize Japan from "Osaka Yakiniku & Hormone Twins"! Although it is a little power, we will serve you as much as possible!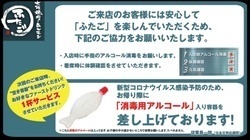 [About FTG Company]
Focusing on "Osaka Yakiniku Hormone Futago" and salad brand "GREEN BROTHERS", we are developing 75 stores in 5 brands in Japan and overseas, operating restaurant stores, selling beverages, and consulting business related to the restaurant business. Under the VISION of "creating" exciting people "and" creating an exciting society "", we will expand our business not only in the restaurant business but in various fields. (As of the end of April 2020)
・ Representative: President and CEO / Jun Cheong Lee
・ Headquarters location: 3-6-1 Nakameguro, Meguro-ku, Tokyo Chiyo Apollon Building 4F
・ URL:
https://ftg-company.com/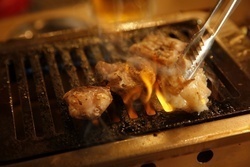 [Credits at the time of publication and inquiries from readers]
Name: Osaka Yakiniku / Hormone Twins
TEL: 03-3791-2518 (Representative of FTG Company)
URL:
http://www.yakiniku-futago.com/
Instagram: yakinikufutago.official # Osaka Yakiniku Hormone Futago