Teaching Japanese food overseas Overseas training course for certified Japanese food overseas started online.
Online using ZOOM where you can learn techniques to teach Japanese to foreigners. You can learn know-how directly from Japanese teachers even when you are overseas.
Japanese food that is popular overseas because it is healthy and delicious.
Teaching the local people how to make that Japanese food is a great opportunity to blend into the land,
It is also meaningful as a cultural exchange.
There are many places where you can show off your host family, colleagues at work, children's school officials, etc.
Useful for intercultural communication.
You can also run classrooms and earn income, which will help you build your own career business.
Recently, Washo Cook Co., Ltd. (President: Noriko Tominaga, Headquarters: Sagami Ohno), which operates a cooking class for foreigners, has opened a "Training Course for Authorizing Instructors of Overseas Japanese Foods" utilizing ZOOM. (From April 30, 2020)
Washo Cook has been a "certified instructor training project" since 2016 to teach Japanese food and home cooking
We are working on a franchisee that produces over 150 instructors in Japan and overseas. In order to become a pioneer of cooking classes for foreigners "Washoku Cook Co., Ltd." online while being overseas, skills to teach cooking to foreigners, classroom preparation, cooking English, how to attract customers, and instructor You can get a wide knowledge of.


It is also possible to start a business as a Japanese food teacher

The overseas Japanese food certification instructor training program mainly has two courses, basic and business,
If you take both, you will be certified as a teacher. Basic course

1. Those who want to expand communication through cooking
2. Those who want foreigners to know the goodness of Japanese food
3. Those who want to entertain foreigners with Japanese food
4. Those who want to work independently at their own risk

This is a basic lesson for students.
A total of 6 hours, two times in total, you will learn the basics and hospitality methods for teaching foreigners cooking.
With practical contents such as preparation for opening a cooking class, lesson methods, English used for teaching,
There are also 6 recipe cooking lessons such as sushi rolls.

The business course is

1. Those who want to learn the concept of a classroom that can attract customers and how to make it
2. Those who want to learn specific lesson methods in English (practice cooking in English)
3. Those who want to know how to use SNS effectively
It is a practical course for students.

All two times, a total of 6 hours, you will acquire knowledge directly related to work such as how to open a home classroom and know-how to attract customers.
The appeal is that it is easy to understand and can be performed immediately, such as cooking training for popular menus and marketing using SNS.
There is also a support plan for those who have completed the business course, and after the graduation, the cooking class will be opened and operated.
Follow up is available to help you grow your business.

This program is also held for overseas employees.
We will help you to learn the know-how while you are in Japan and start your overseas life smoothly. Companies that are interested in "Overseas Japanese food certified teacher training course", media companies
Please contact Washo Cook Co., Ltd. We also hold company seminars for overseas employees and accompanying wives.

Washi Cook Co., Ltd. conveys "Japanese food culture" to many foreigners, promotes international exchange and mutual understanding, and contributes to the improvement of world culture.




Specifically, we help foreigners to entertain, spread Japanese food and home cooking, spread Japanese food ingredients, food culture, and Japanese culture, as well as help with life and tourism in Japan.

We are also working on the development of certified instructors who can teach Japanese food and home cooking in Japan.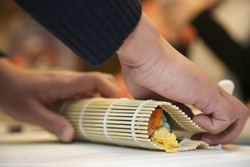 General Incorporated Association Foreign Cooking Class Association
https://cookingforeigners.org/

【Company Profile】
Company name: Washi Cook Co., Ltd.
Representative: Noriko Tominaga, President
Location: 4-2-22 Kamizurumahonmachi, Minami-ku, Sagamihara-shi, Kanagawa
TEL (FAX): 042-748-4742
Mobile: 090-1849-7240
URL: https://washocook.com/
E-Mail: noriko.tominaga@washocook.com
Business Activities: Global business that develops cooking classes for foreigners around the world