Funaburu Kyoto Kamogawa Resort opens outdoor terrace "KAMOGAWA Tenku Terrace" for a limited time!
"Munazuru Kyoto Kamogawa Resort" (location), which is the operating venue of the group brand "VMG HOTELS & UNIQUE VENUES" developed by Value Management Co., Ltd. (Headquarters: Osaka City, Osaka Prefecture; Representative: Atsushi Rikino; hereinafter referred to as the Company) : Shimogyo-ku, Kyoto City, hereinafter referred to as our hotel.), we are pleased to inform you that we have opened the 4th floor outdoor terrace as "KAMOGAWA Tenku Terrace" from Saturday, June 6 for a limited time.
The hotel is a gentry restaurant that was founded in 1870. The pure Japanese style five-storied building is a prestigious venue designated as a national tangible cultural property. Currently, it has been renovated and opened in 2008 as "Shiro Tsuru Kyoto Kamogawa Resort". With three large and small banquets, a ceremony space, and a restaurant where you can enjoy the riverbed in the summer, it is popular as a special place for people celebrating anniversaries and as a party venue for weddings. At the restaurant, you can now enjoy the summer tradition of Kyoto, "Kawayuka", but with the cancellation of the emergency declaration, you can enjoy the summer nights of Kyoto while avoiding the 3 denseness of the With Corona era. From the desire, we opened the outdoor terrace on the 4th floor, which was previously open only in special cases, as a bar-usable space for a limited time. (* In order to prevent coronavirus infection, we will work on avoiding 3 densities and hygiene management, and operate while taking safety measures.)
Set in a former long-established restaurant Ryotei Ryokan, which celebrated its 150th anniversary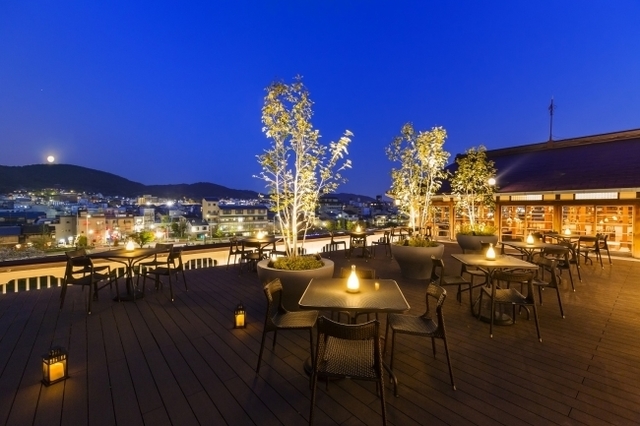 Overlooking the thirty-six peaks of Higashiyama Kyoto and the Kamogawa River
=Details================================================
[Period] June 6-August 31, 2020
※Closed on Tuesdays ※Because it is outdoors, it will be closed when it rains. [Business Hours]20:00-24:00 (23:00 L.O.)
[Price] Table charge: 1,000 yen/per person (tax and service charge included)
The condition is 1 drink per person.
[H P]
https://www.funatsuru.com/restaurant/news/#new_01

● Implementation of sanitary cleaning of public spaces
●Installation of alcohol sterilization in various places in the building
●Wearing staff's masks or face shields and thorough health management
●Social distance between tables