Have your breakfast before setting out! Tokyo Station to energize your day
If you've ever visited Japan, you've probably realized that the way they treat breakfast is quite different from America, or European countries, seeming less about leisure and more about necessity. But we think you should make the most of the most important meal of the day! Let's take a look at those healthy and yummy breakfasts at five cafes concealed in the alleys near the Tokyo Station. They will certainly brighten up your day!
Index
1. Muromachi Cafe HACHI: A Nutritious and Affordable Choice
Muromachi Cafe HACHI is located underground between JR Kanda Station and Nihombashi Station of the Tokyo Metro. This area is highly commercial. You'll find the downward staircases leading right to the secluded entrance of the restau-rant. Here you can take a sip and relish the time from breakfast to dinner. The skylight allows natural light to flutter in, and in the evening, the moonlight and the urban neon lights create a different atmosphere. The dining space includes a long table zone, a sofa zone, and an outdoor zone. It can satisfy all sorts of de-mands for gathering. There is also free Wi-Fi.
You certainly want to get some nutritious food in the early morning. If you prefer Western breakfasts, you don't want to miss this. There are two packages listed on the menu: Bread is the main course in package A (490 JPY); package B (590 JPY) al-lows you to pick one from three options: sandwiches, toasts, and muffins. Both packages come with vegetable salad, soup, and drinks you can choose. The restau-rant also offers small ovens for you to heat your bread or pizza, which is pretty convenient, and the pricing is definitely worth the bang for your buck. Travelers who want to get some energy for the rest of the day may as well start healthily at Muromachi Cafe HACHI.
Muromachi Cafe HACHI
Business hours: Breakfast 7:00 am–11:00am ※ Only on working days; Lunch 11:00 am–3:00 pm; Afternoon tea 3:00 pm–5:00 pm; Dinner 5:00 pm–11:00 pm (Last order time 10:30 pm) ※ Closed on Sundays and Japan's public holidays
Transportation:
Exit 4, Shin-Nihombashi Station of the JR Sobu Line, a 1-minute walk
Kanda Station of the Yamanote Line or the JR Keihin–Tohoku Line, a 5-minute walk
Mitsukoshimae Station of the Tokyo Metro Hanzomon Line, a 4-minute walk
B1F, 4–4–10, Nihonbashi Muromachi, B1F, Chuo City, Tokyo
2. RITUEL Nihonbashi: A Popular Bakery in Nihonbashi Takashimaya
RITUEL Nihonbashi, opened in 2018, is next to the subway exit. Except for the takeout, the restaurant provides an open dining space, which makes it easier for the commuters in Tokyo. The French word "RITUEL" in the restaurant name means "habit" or "ritual." The restaurant selects free-range eggs from Yamanashi Prefecture, Hokkaido milk, and other domestic ingredients of Japan. More im-portantly, it adopts the traditional bread-making methods of France to produce very authentic bread. Besides, RITUEL offers specialized shopping bags. Can you think of anything more French than carrying a bag full of baguettes?
The well-known baguettes are indeed a must-try. But the restaurant's top three items are all croissants that are mainly made of eggs, milk, and sugar. Take a bite, and you will hear the crunchy sound of the sweet and crispy crust. In addition to typical croissants, there is matcha, chocolate, and other seasonal flavors. Also, if you like pain de campagne (country bread), RITUEL is sure to please! It contains dried blueberries, cheese, and almond nibs.
RITUEL Nihonbashi
Business hours: 7:30 am–9:00 pm on working days/10:30 am–9:00 pm on weekends and during public holidays of Japan ※ Closed from time to time
Transportation:
Nihombashi Station of the Tokyo Metro Ginza Line, a 1-minute walk
Mitsukoshimae Station of the Tokyo Metro Ginza Line, a 6-minute walk
B1F, 2–5–1, Nihonbashi Takashimaya, Nihonbashi, Chuo City, Tokyo
3. Furutoshi: Japanese Celebs Love This Healthy Vegan Breakfast
Furutoshi used to be in Nishiazabu, but moved to the second floor of Solaria Nishitetsu Hotel Ginza a few years ago. Even celebrities can't get enough of this place. Starting from 7:00 am, it provides breakfasts (2,400 JPY) that contain one main course you choose from four items, salad buffet, and fresh juice. Although it can be a little pricy, it's worth trying if you want to reward yourself occasionally. The restaurant uses organic, pesticide-free vegetables and rice from contracted lo-cal farmers, and toasts or fruit sandwiches from 365 Days, a famous bakery of To-kyo, to present Japanese-style rice and miso soup breakfast, French or Italian breakfast, and best-selling desserts that change with the season. It is certainly to have something for even the pickiest diners.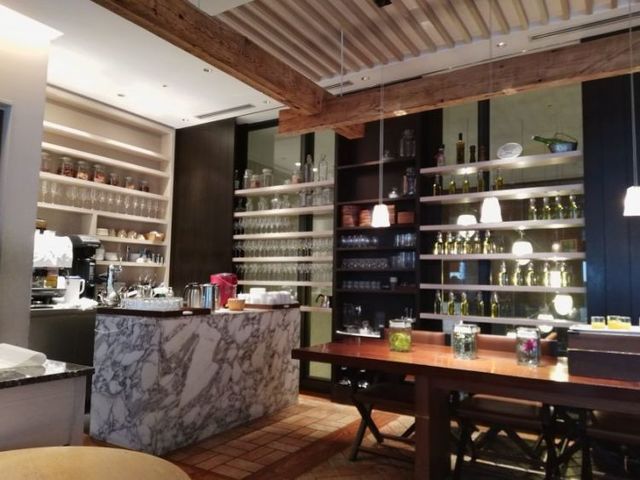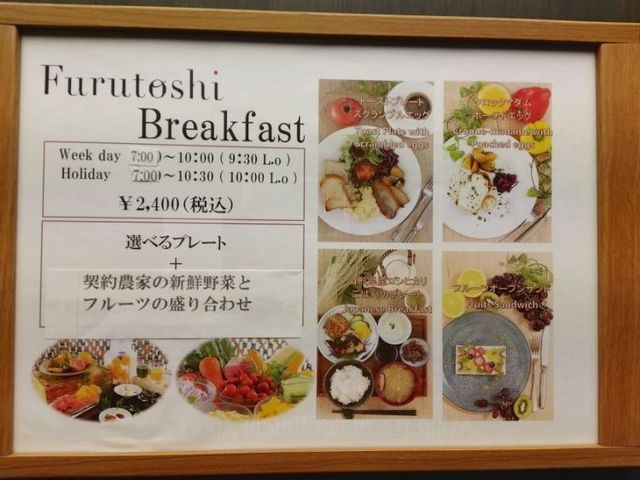 The main course of French breakfast is a croque-madame that frequently appears in traditional French cafes. Insert ham, cheese, and half-cooked eggs between 365 Days thick toasts, top it with the white cheese sauce, sprinkle Parmesan onto it, and then put it in the oven. It's named croque-madame because the egg placed on the top of the toasts resembles a woman's hat. And if there's no egg on the top, it's called croque-monsieur, or French toast. Each dish is made to order, and is actually a well-rounded breakfast, with the warm, gooey Parmesan, semi-sweet fried potato wedges, plus shredded purple cabbage and tomato soup.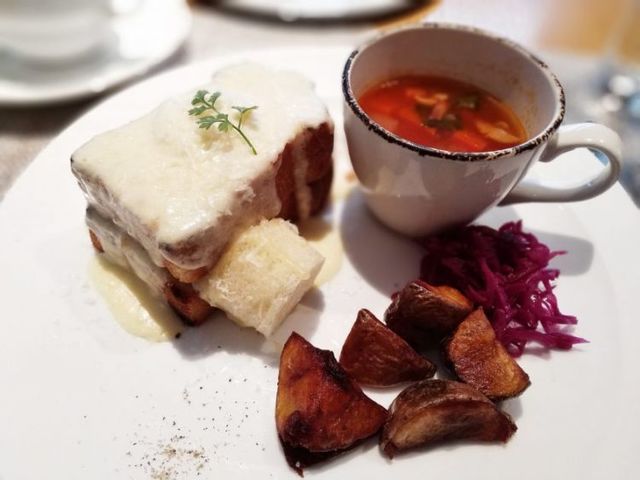 Furutoshi
Business hours: Breakfast 7:00 am–10:00 pm ※ Last order time 9:30 am (Open until 10:30 am on weekends and Japan's public holidays ※ Last order time 10:00 am); Lunch 11:30 am–3:00 pm ※ Last order time 2:00 pm; Dinner 6:00 pm–10:00 pm ※ Last order time 9:00 pm (Open until 11:00 pm on weekends and Japan's public holidays ※ Last order time 10:00 pm)
Transportation:
Exit A2, Higashi-ginza Station of the Tokyo Metro Hibiya Line or Toei Asakusa Line, a 1-minute walk
Exit A12, Ginza Station of the Tokyo Metro Marunouchi Line or Ginza Line, a 2-minute walk
Exit 11, Ginza-itchome Station of the Tokyo Metro Yurakucho Line, a 3-minute walk
2F, 4–9–2, Solaria Nishitetsu Hotel Ginza, Chuo City, Tokyo