5000 yen in a wine-like bottle that has evolved unexpectedly in Japan
Japanese tea is often provided free of charge after eating at restaurants. There is a new movement to increase the added value and sell. What kind of strategy is it?
Speaking of tea, the original style was to buy leaves and use a teapot at home. In addition, when drinking outside, it was the mainstream to carry it in a water bottle. In the 1970s and 1980s, beverage makers mainly in ITO EN sold canned teas such as green tea and oolong tea, and a new market called "buying tea" appeared.
Unexpected evolution of Japanese tea
The demand for PET bottles increased in the 90's, and the convenience of being able to carry a lid on top of it has led to a dramatic expansion of the beverage scene. The appearance of tea in cans and PET bottles may have been the first opportunity to overturn the Japanese value of tea, "Do you pay for money to buy tea?"
Tea may be a low-value-added drink that is provided free of charge even in the dining scene, such as "Agari" at a sushi restaurant or tea that is provided free of charge before accounting at an izakaya.
This time, how does the tea evolve in Japan and abroad? I will also explain what kind of influence it has on the restaurant industry. We also show how consumers perceive this "value of tea" based on data. And I would like to discuss the possibility of future market expansion.
One 500 yen tea is sold out immediately
I would like to introduce five examples of domestic tea evolution.
The first is the evolution of bottled drinks centered on "plastic bottles". Bottled drinks are becoming more sophisticated now. There are two types of high-grade products: "high-grade products that are easy to pick up" and "high-grade products that upset the concept of PET bottles".
Normally, 150 yen is the mainstream price at vending machines and convenience stores, but with added value such as "Tokuho," "New tea leaves," and "Limited," the price increases from 10 to 30 yen. If it is 30 yen, it can not be said that the price increase is so big, so customers will purchase it. However, the price increase of 30 yen is 20% increase. It can be said that the unit price of tea has been successfully increased by expanding sales of this "a little expensive" product.
How about upscale so that the concept of plastic bottles is overturned? The "Haruka New Premium Japanese Tea" sold by Jatex was over 200 yen per bottle and the price was over 500 yen, but it was sold out immediately (currently discontinued). In addition, the super premium Japanese tea "KAHO Koji" in a wooden box that costs 5000 yen each is treated like wine at a Japanese restaurant at a hotel. Both products are not only for tea lovers to purchase for themselves, but also to meet the needs of a little nice souvenirs and gifts.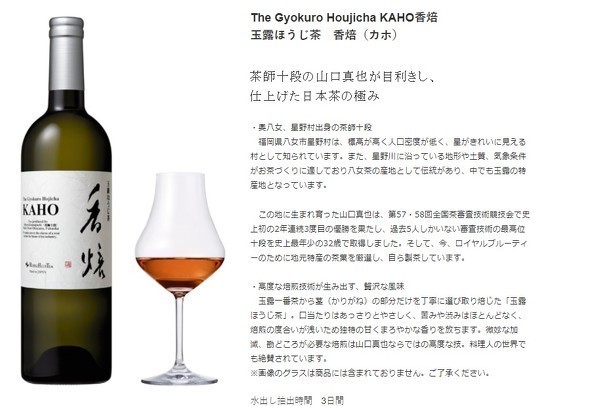 "Gyokuro Hojicha" KAHO incense burner, a luxury bottle (Source: Royal Blue Tea Japan official website)
Offering 100 types of tea discount
The second example is to create a specialty store. You can easily imagine "Wa Cafe" where you can enjoy Japanese tea as a cafe. However, there are some very interesting stores that are specialized in the food and drink scene. Its name is "Chawari". They provide 10 kinds of tea discount by mixing 10 kinds of tea and 10 kinds of alcohol.
Since the image of "tea = healthy" is strong, the majority of female customers are making it a restaurant that is difficult to book. In addition, since there are 100 types of products to be offered, the consumer sentiment that wants to try various tastes is tickled, and the number of drinks and toasts can be increased and the unit price can be increased. Also, since it is a drink that is easy to keep costs down, I think the profit margin is also high.
Hotel based on the concept of tea
The third is an example of a hotel that has realized differentiation based on the concept of tea.
"CHAYA 1899 TOKYO" in Shimbashi, Tokyo. This hotel is a member of the long-established hotel "Ryumeikan" in Yaesu, Tokyo, and has been admiring the Japanese tea culture that has been cherished since ancient times in Japan, "a person that connects people and colors the time of relaxation". It seems that it opened with the desire to cherish it.
I also stayed at the hotel, but first of all, at check-in, a tea pot is used to carefully brew tea using an ancient method. The food served at the restaurant is also centered around tea. When I entered the room, everything was based on the concept of tea, and I was amazed at how thorough it was. I couldn't help but photograph everything. All amenities such as shampoo and body cream use tea. Of course, tea is also prepared in the room, and tea is also used for sweets to be served with the tea. The teapot and bowl for enjoying the tea are also very stylish so that you can fully enjoy the time you spend in the room. And the motif is a tea bowl that makes tea up to Betlight. Not only Japanese but also many foreign tourists visit this hotel.
The price range is similar to that of nearby city hotels, so if you want to stay overnight, you should pay attention to the fact that you can differentiate yourself from other hotels.
Hotel "CHAYA 1899 TOKYO" with tea concept (Source: CHAYA 1899 TOKYO official website)
Destination
The fourth is that tea has become a destination.
I would like to pay attention to "tea tourism" where people travel for tea. This is an experience-based program for accommodation facilities in Ureshino City, Saga Prefecture. There is an expert called "Tea Butler" here, and guests are responsible for all tea services during their stay. In addition, the "Tennchadai" is set up in the tea plantation, where you can see the Ureshino city and the beautiful mountain range. There are many experience programs such as "tea space" where you can enjoy tea while enjoying a beautiful tea plantation, and "sawa" where you can talk with the producer. This program, which incorporates "learning" and "story", will enhance the added value of tea if it is established in the West as if a wine lover travels around a winery.
Tea pairing
The fifth is "tea pairing". Pairing is now attracting attention even in the alcohol market. Many food and drink business owners may be concerned that the unit price will not increase if customers who do not drink alcohol come, but I would like to pay attention to tea pairing as a plan to devote themselves to that problem. By offering multiple teas, like wine, according to the course meal, you can enjoy the marriage with the dishes and there is a high possibility that satisfaction with the restaurant will increase. In addition, the possibility of increasing the unit price even with non-alcohol may increase.
Now, while the tea is gaining attention in Japan, the "Japanese tea boom" is occurring overseas.
 Matcha, which can ingest all of the tea leaves by crushing it, is especially popular as a Japanese superfood that can ingest many nutrients such as catechin, and is attracting the attention of trend leaders in the West. In addition, Starbucks Matcha Frappuccino is a popular dish in the United States, as it is attracting attention as a Japanese flavor. The well-established tea shop "Ippodo" in Kyoto also has a specialty store in New York. In Europe, "MATCHA" is used for chocolate, macaroons, cakes, etc. and is popular as a Japanese flavor. Even in Japan, matcha flavor is a popular flavor of "sweets" centered on chocolate and ice, but it is no exaggeration to say that this boom is a reimport from overseas.
Ippodo in New York (Source: Ippodo official website)
Existence of consumers who are willing to pay more than 501 yen for tea
From here, I would like to explain consumer sentiment based on data and discuss the possibility of expanding the tea market in the future.
At a hot pepper gourmet restaurant, we conducted a survey on tea awareness and found that it was very interesting.
First, about the value of tea. About 80% of consumers say that tea has the image that it is provided free of charge in the restaurant scene. On the other hand, about 30% of consumers answered that they would like to drink premium tea even if they paid for it, and about 30% of the respondents said that premium tea would cost more than ¥501 per cup of tea. 10% existed.
I feel the potential of the market here. What kind of elements are necessary for "premium tea" that you want to drink even if you pay money?  Thinking from domestic cases, it is possible to convey the storyline such as "production center, production method". I think that the value of tea can be improved by adding value through "experiences" that you can enjoy while learning how to brew tea.
 Coffee and tea are becoming premium all over the world, and their added value is increasing. Once again, the story about the particularity of production areas, production methods, and rarity. Also, in the scene of enjoying tea, not only drinking, but sticking to the brewing method and sharing the experience. It will lead to "premiumization" and could establish the world-famous "OCHA" brand as well as coffee and tea.
Also, in Japan, not only so-called green tea, but also many teas such as hojicha, corn tea, and black soybean tea exist. By enjoying many flavors, it is possible to increase the number of tea drinking scenes. Furthermore, I think it could bring about a bigger boom in Japan as healthy food, as it has become popular overseas.
Tea is a well-established drink in Japan, but has the potential to expand the market.
Now, due to the spread of new coronavirus infections worldwide, an unprecedented crisis continues. As self-restraint continues, it has a great impact not only on people's eating and drinking scenes, but also on their lifestyle. Even after the end, people's lifestyles will continue to change. Under such circumstances, the way eating out, eating out, and eating in will change. When considering the growth of the restaurant market, it is expected to enter a new phase. I will talk about that at some point. We hope that this situation will end soon in Japan and around the world.