【Japanese cuisine】6 great Japanese food restaurants in Tokyo!
I want to eat proper Japanese food, and I'm even more happy if it's affordable... In this project, we will introduce carefully selected Japanese food with high satisfaction and fulfillment level, even though it is properly organized. Hats are not included in taste, volume, and ideas.

1. Sekihanare (Nearest station: Setagaya Station)

Free and relaxed sensitivity that attracts food
Here is the sister store of the popular izakaya "Seki" in Setagaya and Wakabayashi. This is a course-based store, as opposed to a single item, "Yu". "I want to offer a dish that allows me to enjoy the full flavor of the season and enjoy it anyway," says Kenshi Kawakubo. He has a well-established reputation for his free thinking, but he feels that he is expressing more relaxedly on the course. For example, for appetizers, a caponata-style dish with white miso added to tomato puree, fillofish sand for strong dishes, and burdock jersey noodles for 〆. The fun grows as you stack the dishes. This course is about 10 dishes, 5400 yen.
"Sekihanare entrusted course" of "Sekihanare" 5400 yen
[Bowl] Cold soup of Kobuchizawa corn and soy milk
[Appetizer] Kobuchizawa, summer vegetables and white miso caponata
[Sake] Kagoshima/Kuromutsu Oita/Iseki Seki
[Dessert] Okayama and Shine Muscat
[Address] 3-1-3 Setagaya, Setagaya-ku, Tokyo
[TEL] 03-5450-5870
[Business Hours] 18:00 to 24:00 LO (closed at 1:00 the next day) Closed on Mondays
[Seat] Counter 9 seats, table 8 seats
[Access] 1 minute walk from Setagaya Station on the Tokyu Setagaya Line
2. Hinata (Nearest station: Mitaka station)

A neat taste that seriously faces the material
If you pass through the goodwill, you will feel a good sense of tension and cleanliness. It's not solid, but it has the appearance of a Japanese food. Kenji Ozeki, the master who trained at a restaurant and izakaya in Tokyo. The dish "I want to provide good ingredients with a straightforward cooking method without tinkering with them" is an orthodox school where the work is done properly. I am worried about the timing of serving food. A la carte is also good, but it's a little surprising that you can enjoy such dishes for 3500 yen. Beginning with sashimi and three types of sashimi, seasonal fruit and vegetable salads, fried foods and bowls using fine beef shabu meat. To the freshly cooked rice in the southern iron pan. There is no doubt that you will want to visit again.
"Hinata" course 3500 yen
[Preliminary] Soaked Nanjing red potato stalk and Moroheiya
[Sashimi] 〆 Mackerel, Autumn leaves Mackerel kelp 〆 Tuna lean and medium Toro
[Bowl] Beef Shabu and eggplant sauce of blue shiso
*Reservation required/content varies by day
[Address] 1-25-10 Nakamachi, Musashino City, Tokyo Okamoto Building 1F
[TEL] 0422-52-6733
[Business Hours] 17:30 to 24:00 (23:30 last order) Wednesday regular holiday
[Seats] Counter 10 seats, Table 4 seats, 14 seats in total
[Access] 3 minutes walk from the north exit of Mitaka Station on the JR Chuo Line
3. Matsu Matsumoto (Nearest station: Nakameguro station)
Bowl, sashimi, seasonal vegetables. Satisfied with that kindness

There is also the personality of the owner, Sachiko Matsumoto, who works smartly at the U-shaped counter, and it is small but lively. The spirit of "I cannot let the customer lose". The Hakkin course for 4,800 yen is really cheap. The sashimi and bowls, which customers outside the course must eat, are especially popular. Matsumoto, who is also a fish meister, carefully chooses the production area, and the seasonal fish has a different taste and lid. The bowl of this day contains sweetfish, cherry tomatoes, Kyoto sweetfish, and Junna, and you can also enjoy the soup stock. The colorful dishes and seasonal vegetables are included, and the dishes that have been carefully worked on will naturally make you smile.
"Peach" of "Matsu Matsumoto" 4800 yen
[Appetizer] Making vegetables
[Bowl] Ayu, mini-fruit tomatoes, Kyoto's chestnuts, Junna
[Seasonal fish making] Hokkaido, Oguro pacific saury Akashi, Octopus Miyakejima, Fishing amberjack
[Okimari] Sesame tofu of corn
[Address] 2-24-14 Kameguro, Meguro-ku, Tokyo
[TEL] 03-6451-0297
[Business Hours] 18:00-24:00 Closed on Sundays
[Seat] 12 seats at the counter
[Access] 7 minutes walk from the East Exit of Nakameguro Station on the Toyoko Line or Hibiya Subway Line
4. Kyobashi Haru | Moto (Nearest station: Kyobashi Station)
Hateful addition and subtraction made with seasonal ingredients

"Shinbashi Haruka", which had been popular in Shimbashi for 6 years, moved to Kyobashi. You can enjoy the course and sake at the relaxed counter. The dishes cooked by the head chef, Mr. Ueno, are surprised and enjoyable, and I am happy. For example, the appetizer is steamed peach sake with Hokkaido fromage blanc and pink pepper. A Japanese pepper dish wrapped in swordfish on a grilled eggplant, and a dish of roasted sea urchin. While valuing seasonal ingredients, it is good to add and subtract. Mr. Takayuki Suzuki, the owner of the shop, will choose the sake to be with you. Bright and sincere talk with love for producers is also fun.
"Kyobashi orchid" "original course" 7,000 yen
Hokkaido fromage blanc and sushi steamed peaches with peach
Grilled eggplant with grilled swordfish, sea urchin
Charcoal grilled Saitama wheat bark
[Address] East Building 1F, 2-6-13 Kyobashi, Chuo-ku, Tokyo
[TEL] 03-3567-7888
[Business Hours] 17:00-23:30 Sundays and public holidays are closed (There are irregular holidays)
[Seats] Counter 9 seats, private room 6 seats, total 15 seats
[Access] 2 minutes walk from Exit 7 of Kyobashi Station on the Ginza Subway Line, 2 minutes walk from Exit A5 of Muromachi Station on the Toei Asakusa Line
5. Raian | Ryan (nearest station: Shibuya station)
A relaxing space to entertain your eyes and tongue

The corner of the former Mitake town that shows a calm atmosphere in Shibuya. "Rain-an" is a place where you can enjoy Japanese food with large windows, a spacious space, and a wide counter. The à la carte is attractive and can be used for various purposes, but the 6,000 yen course "Mitake", which is abundantly fast, is fulfilling. The dishes that range from the beginning to the three types of sashimi, eight types of five, medium plates, grilled foods, steamed buckwheat noodles, and the final sweetness are plentiful and pleasing to the eyes and tongue. I'm looking forward to playing chopsticks on the 8 plates of 5 kinds on the platter, and you can also feel the taste of the slightly coarsely ground hand-made buckwheat noodles, which is one of the gourds here. You can also make various changes such as mixed buckwheat noodles and tempura.
"Bamboo" from "Rai-an" 6000 yen
[Three types of sashimi] Water octopus in Hokkaido, raw tuna and grunt in Kagoshima
[8 kinds of 5 kinds] Green beans, pumpkin, yuba sauce, Kinjikusa herring simmered and others
[Grilled food] Tsumari pork
[Soba] Seiro Soba
[Address] 1-4-13 Shibuya, Shibuya-ku, Tokyo Shibuya Tomo Building 1F
[TEL] 03-5778-3379
[Business Hours] 11:30 to 15:00, 17:30 to 23:00
[Seat] Counter 28 seats, Table 19 seats, Private room 12 seats, 59 seats in total
[Access] 6 minutes walk from JR Shibuya Station East Exit, 2 minutes walk from Subway Fukutoshin Line Exit 13
6. Soba Kappa Kurata (Nearest station: Musashi-Oyama station)
Reasonably priced buckwheat noodles with handicrafts
An elegant store in a quiet alley in a different area from the downtown area of ​​Musashi Koyama. Masaaki Kurata, a shop owner who trained at a famous Japanese restaurant, carefully cooks soba noodles every day, which is also a kuri-style restaurant. Both the dishes and the soba noodles have a refined taste that shines with certain handicrafts, but because of the residential pattern of the land, it is appreciated that the prices are easy to go to. You can enjoy the individual items like a prefix, but the course is great for those who want to eat this. Glazed starters, appetizers, bowls, savory roasted sushi followed by grilled and stewed dishes, 〆 is a special handmade soba. It is a course with a high degree of satisfaction that includes the fragrant seasonal taste.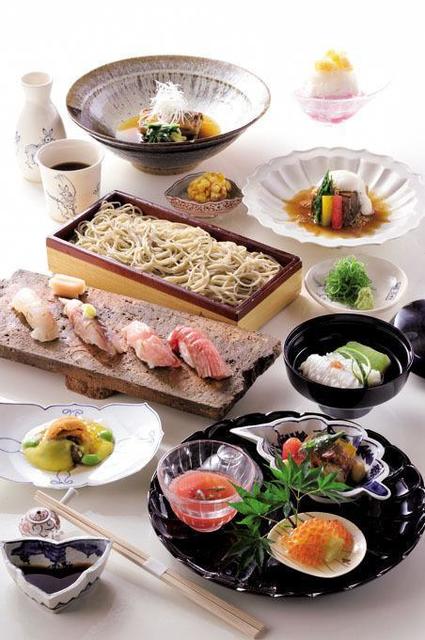 "Water lily" of "Soba Kappa Kurata" 5940 yen
[Sashimi] Winter melon and roasted frost
[Appetizer] Assortment of 3 kinds
[Simmered food] Ehime/Amatoro pork black vinegar
[Grilled food] Stewed sweetfish and roasted mackerel, stewed yellow chive and Mibu
[Soba] Handmade soba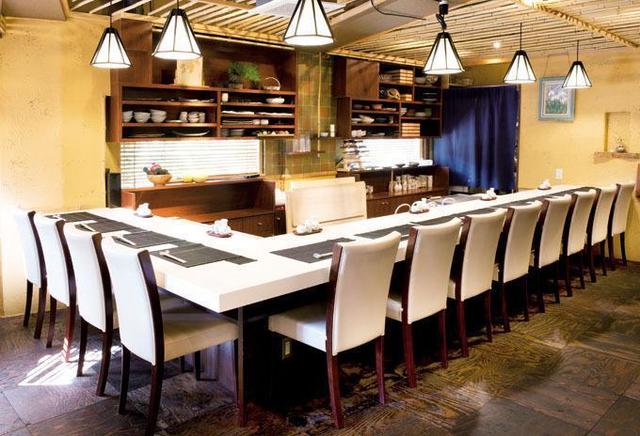 [Address] 3-2-18 Oyama, Shinagawa-ku, Tokyo
[TEL] 050-5890-6379 (reservation only), 03-5773-1268
[Business Hours] 11:30 to 14:00 (Saturdays, Sundays, and holidays only during lunchtime), 17:30 to 24:00, closed on Mondays
[Seats] Counter 10 seats, Table 30 seats, 40 seats in total
[Access] 3 minutes walk from the West Exit of Musashi-Oyama Station on the Tokyu Meguro Line
How was it? Please come and visit the above 6 stores introduced this time. Please note that the store information is as of the time the article was published and may differ.