The best tempura restaurant in Tokyo with the best cospa! Fry right in front of you! Recommended 6 selections
A gourmet writer eats and walks around and finds a tempura shop in Tokyo. It would be nice if you could easily go to "Tempura". This time, we would like to introduce 6 tempura shops in Tokyo that are delicious and affordable, with a focus on those that are carefully fried in front of you and that are gentle on your eyes.

The crispy texture of tempura is good as a snack for sake, and it's also good to eat it with a squid fried set meal etc. You can enjoy it flexibly. Seasonal ingredients such as high-quality oil, crispy and comfortable texture, carefully selected vegetables and seafood. It is exciting even for adults that the craftsmen carefully fried them one by one in front of you. Introducing excellent restaurants selected from the many shops in Tokyo, which have been selected for their gourmet meals that have been thoroughly eaten. Please refer to it.

1. Uofuji (Nearest station: Jimbocho station)
Photo: Part of the platter of "Fuji Fuji" (rolled shrimp, asparagus, kisu) 4000 yen
There is also an Omakase course, but the "assorted" that you can fried one at a time in front of you is the perfect choice for a trendy tempura. You can enjoy 6 seasonal tempura dishes without meals, which is perfect for swallowers. The tempura fried in high-quality oil brings out the taste and aroma of the ingredients, and the batter is thin and light. If Koko rides, the best solution would be to add one or two seasonal seeds. The seeds that stick to Edomae are from Tsukiji. You can get good tuna for sashimi, which is a proof of your long relationship with the riverbank.
If you want to have tempura as a side dish and have a drink, the "assorted dishes" carefully made by craftsmen are recommended. The best combination of seasonal ingredients such as rolled shrimp, asparagus and kiss, and sake. Neta is particular about Edomae and buys directly from the market. The store is barrier-free, making it easy for wheelchair users to enter. The counter has an air vent to create an air curtain so that you can eat without worrying about the smell. The current owner is the 4th generation, a long-established tempura shop in Tokyo.
[Address] 3-1-19 Kandaogawamachi, Chiyoda-ku, Tokyo
[TEL] 03-3291-5327
[Business hours] 11:30 to 14:00, 17:00 to 22:30
[Closed] Saturdays, Sundays, and holidays (Saturdays and holidays are open, consultation is possible)
[Seat] Counter 10 seats, 2 private rooms, total 24 seats
[Access] Subway Hanzomon Line, etc. 5 minutes walk from Jimbocho Station Exit A7
2. Tempura Yabuki (Nearest station: Takaido Station)
Photo: Part of plums in "Tempura Yabuki" (Anago, broccoli, shrimp, shiitake mushrooms, kakiage don, red broth) 4800 yen
A quick and polite work is fascinating even if you look at it. "Tempura is a steamed dish that brings out the flavor of the ingredients, so sharpness is important." The seafood such as scallops and squid has a sweetness, and the vegetables are fresh. For the end, I would like you to have just this, a fried kakiage bowl with shrimp luxuriously used. With this content, "Ume" for 4,800 yen should be called the conscience of the tempura world.
The owner of the store, who has a strong arm in a calm atmosphere, has been a veteran for 60 years. Since he was 20 years old, he trained at the "Ginza Tenichi" fried ground and his skills are superb. We are familiar with the materials used for tempura, and we judge by experience what materials should be fried firmly and what should be finished lightly, and we will offer it to the customer in the best condition. The seafood such as scallops and squid has a strong sweetness, and the vegetables are crispy and fresh. Professional pride can be felt in quick and polite work.
[Address] Domus Takaido 1F, 3-28-24 Takaido Higashi, Suginami-ku, Tokyo
[TEL] 03-3334-0070
[Business hours] 11:30-14:00, 17:00-21:00
[Closed] Water/Thurs (holiday business)
[Seats] Counter 12 seats, Table 8 seats, 20 seats in all
[Access] 8 minutes walk from Takaido Station on Keio Inokashira Line
3. Tempura Arai (Nearest station: Iidabashi station)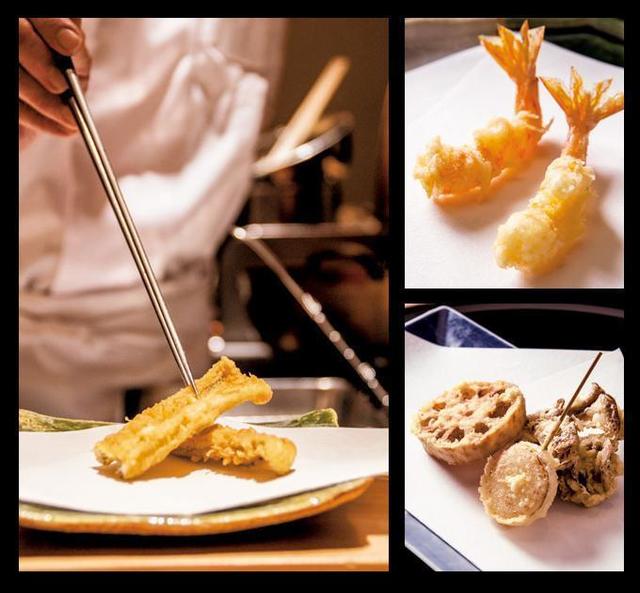 Photo: Part of the daytime course of "Tempura Ararai" (lotus root, maitake mushroom, small onion, shrimp, conger) 5000 yen
The prestigious company opened a casual second store "Arai" near the main store. The second generation Hitoshi Arai says, "I want young people to know the real tempura. Also, if the young people come to this town, it will be a gratitude for doing business in the flower street called Kagurazaka." ..  The course incorporates salads, etc., making it easy to eat reflecting the times. Since the craftsmen who have refined their skills at "Tentaka" will fried one at a time in front of you, it would be great to have this price.
A second brand in Tokyo, where the famous store "Gozabashi Tempura Tentaka" newly opened. We opened it as a place to train young craftsmen to enjoy the finest tempura easily. The restaurant, which has only 12 canter seats, has a hideaway atmosphere and is popular for its calm meals. The 10,000 yen omakase course is carefully selected with the finest seasonal ingredients such as seafood and vegetables, and a menu of bite buckwheat noodles and sweets is also included to make it easy to eat. We have a wide selection of California wines.
[Address] Kagurazaka AGE Building B1F, 4-8 Kagurazaka, Shinjuku-ku, Tokyo
[TEL] 03-3269-1441
[E business hours] 12:00 to 14:00, 17:00 to 1:00 the next day
[Holiday] Day/Holiday
[Seat] Counter 12 seats / All non-smoking
[Access] 6 minutes walk from Exit B5 of Iidabashi Station on the Tozai Subway Line
4. Tempura Fujiyoshi (Nearest station: Hamadayama station)
Part of the bamboo course of "Tempura Fujiyoshi" (aspara, shrimp, scallop) 5600 yen
"Tempura, shades, and order are taken into account." Tempura, which is served in good timing, is light, taking advantage of the freshness of the ingredients. Delicately sweet shrimp, fluffy fried conger eel, crispy lotus, etc. make the look and texture pleasant. You can put your favorite in between. You can entertain and enjoy tempura, a tempura with a three-leaf scent, and savory tempura.
At a shop in Tokyo with a clean and bright Japanese atmosphere, tempura should be careful to decide the order of serving by looking at the shape and color of the material. The tempura shop is located in a quiet residential area, so you can relax without worrying about the noise of cars and trains. The shrimp has a delicate and gentle sweetness, crispy conger eel and crispy lotus root that enjoys a crispy texture. It is a powerful shop that even foodies can convince themselves.
[Address] 3-25-12 Hamadayama, Suginami-ku, Tokyo
[TEL] 03-5930-0373
[Business hours] From 17:00 to 22:00 (open until 20:30)
[Closed] Water, once a month Thu
[Seats] Counter 16 seats, Table 8 seats, 16 seats in all
[Access] 3 minutes walk from Hamadayama Station on Keio Inokashira Line
5. Shrimp Senka Tenra-tebazu (Nearest station: Shimbashi station)
Part of the entrusted course of "Shrimp Senka Tempura Hand Bunch" (Shrimp, small bowl, sweet potato) 3000 yen
The prawns, which are said to have grown up after eating squid, are characterized by their sweet and crisp elasticity. In addition, there is a rare shrimp just after molting called "Yawara", which you can enjoy for an additional fee. It's comfortable to bring your own drink (1500 yen per bottle). It's a high-class counter tempura, but if you drink and eat it to your heart's content, it will not hurt your pocket.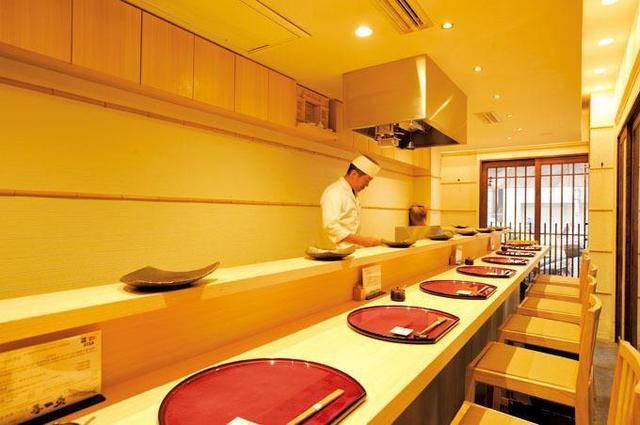 The main feature of the shrimp offered at this tempura store is that it grows after eating squid, and that the meat is sweet and tender. There is also a rare car shrimp called "Yawara" immediately after molting on the menu for an additional fee. The interior is small with only 10 counter seats. Shops with only counter seats have a high-class image, but it is also attractive that you can bring your own drinks and if you add a small shrimp called Saimaki, a high-grade ingredient, to the course, you can enjoy it at a cost of 150 yen.
[Address] 5-5-5 Shimbashi, Minato-ku, Tokyo 1st floor
[TEL] 03-6721-5945
[Business hours] 11:30 to 13:30, 17:00 to 21:30
[Holiday] Day/Holiday
[Seat] 10 seats at the counter
[Access] 8 minutes walk from Karashimori Exit of JR Shimbashi Station
6. Nakameguro Iguchi Ueru Azabujuban store (nearest station: Azabujuban station)
Part of the tempura and skewered omakase course of "Nakameguro Iguchi Kameru Azabujubanten" (Shrimp, Edomae Confucius, vegetables, cold chawanmushi) 5378 yen
Starting with the famous amuse "Foie gras croquette", this restaurant promises "Hitotoku Katsu Sandwich", and the latter half is skewered. There is no sign on the front, and the hidden feeling that appears when you open the iron door makes it difficult to please people who bring you.
A tempura shop in Tokyo with no signs such as signs. When you open the iron door, the dark interior looks like a hideaway. The "Iguchi style", which offers a small amount of seasonal ingredients, is popular with food lovers who want to taste various types of tempura little by little. We recommend 23 kinds of tempura and skewered original course. The latest development patented flyer is used to provide a texture and taste that is second to none for famous stores. Tempura and fried skewers are offered alternately so you don't get tired.
[Address] Azabu・You Tanaka Building, 3rd floor, 2-1-10 Azabujuban, Minato-ku, Tokyo
[TEL] 03-6453-6658
[Business hours] 18:00 to 24:00
[Closed] No holidays / Counter 8 seats, Private room 10 seats, 18 seats in total
[Access] 2 minutes walk from Exit 4 of Azabujuban Station on the Oedo Subway Line
I think that tempura is a simple dish that only scrutinizes the ingredients and frying it, but because it is simple, the taste and freshness of the ingredients are expressed straightforwardly and it can not be cheated. Among such tempura specialty stores, the one in Tokyo, which is especially favored by foodies, is perfect not only in the freshness and quality of the ingredients, the selection of seasonal ingredients, but also the quality of the oil, the frying time for each ingredient, and the timing at which it is served. Is calculated to. Please refer to the shop information we picked up this time to find your favorite shop.