【Kyoto】 A must-see for vegetarians! 5 popular restaurants where you can enjoy the finest vegetarian cuisine!
Kyoto, the tourist city of Japan. There are many restaurants and temples in Kyoto where you can experience the vegetarian cuisine that has been passed down for a long time. This time, we would like to introduce you to a restaurant where you can enjoy higher-grade exquisite dishes! Why not enjoy the world of traditional spirited cuisine in this town full of history and taste?

What is vegetarian food?
Shojin cuisine is a dish prepared according to the laws of Japanese Buddhism.
It is prohibited for practitioners devoted to Buddhist practice to eat animal ingredients such as meat and fish in order to protect non-killing creatures (not to kill creatures unnecessarily), It is a dish that mainly uses vegetable ingredients.
It is a dish that is familiar to us Japanese, who have long been fond of cereals and vegetables, but due to the rising health consciousness in recent years, it has been attracting attention from tourists visiting Japan as a healthy Japanese traditional dish.
1. Shigetsu
Tenryuji, a world heritage site in Arashiyama where Togetsukyo Bridge and bamboo forest are famous. The "Feizuki" is a restaurant specializing in vegetarian cuisine in the garden. You can enjoy vegetarian cuisine centering on seasonal vegetables while admiring the spectacular view of the Japanese garden of Tenryuji, which changes its appearance depending on the season. Each colorful and gorgeous set is beautiful, and you can enjoy it with your eyes or tongue.
2. Izumisen Daijiin Branch
The well-established Shojin Teppanyaki restaurant in Kyoto, which has been in business for over 140 years, has been operating from 1963 in the precincts of Daitokuji Temple. A vermillion lacquer that the monk carried around when he practiced begging (a practice in which he holds pots and visits the homes of believers to beg for the minimum amount of food necessary for their lives and to add merit to the believers). The food in the bowl is really beautiful.
* English menu available
On sunny days, you can enjoy cooking at the outdoor tea ceremony.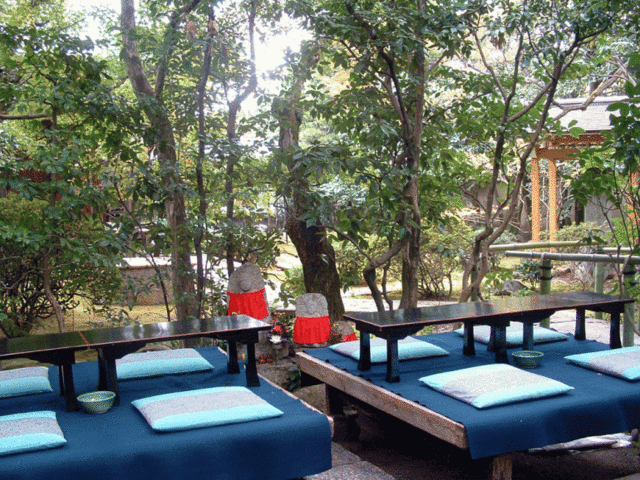 3. Garden Yachiyo
One of Kyoto's specialty is Yufu. Yudofu, which is a valuable source of protein in vegetarian meals that do not eat meat or fish, is said to have its origin in Nanzenji area in the Higashiyama area.
The Yudofu Gozen from "Ryiwa Yachiyo", a garden restaurant located on the side of Nanzenji Temple, is a must-try item. The traditional Kyo-tofu, which is carefully made by pumping up groundwater every morning, and the special sauce that is made from "dashi", which is the life of Kyoto cuisine just for the tofu, is a handmade heart-warming taste. The elegant and soft taste of tofu is attractive.
* English menu available
The garden floor seats (outdoor seats), which have a nice view of the night illumination, are also popular.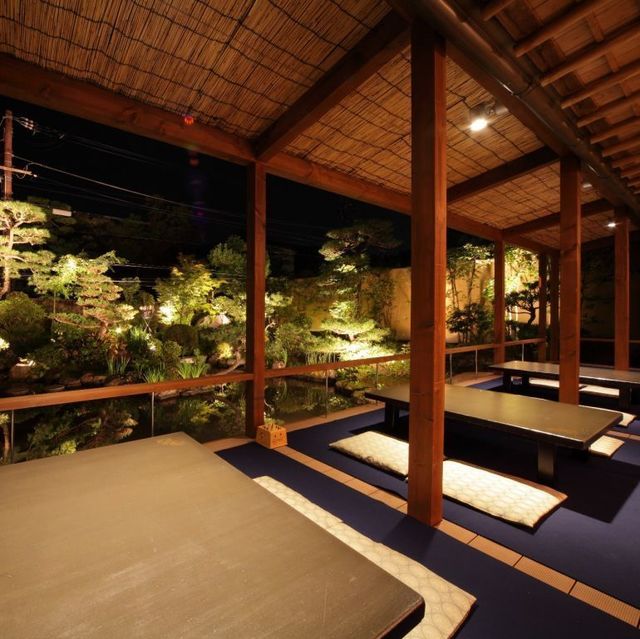 4. Kyoto food, vegetarian food, Toba Jin Fushimi
Located in the southeastern part of Kyoto, at the foot of the world heritage Sohonzan Daigo-ji Temple, the vegetarian restaurant "Kyoto vegetarian cuisine Toba Jin Fushimi" boasts a history of more than 120 years. You can feel the hospitality in every corner of the well-maintained courtyard and the traditional Japanese-style house. The handmade sesame tofu, yuba, raw fusuma, and seasonal Kyoto vegetables are the best dishes in the iron bowl.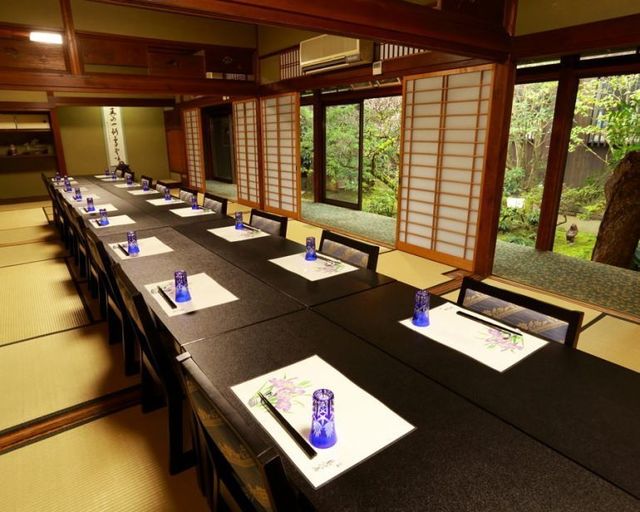 5. Obakushu Omotoyama Manpukuji
Obakushu , located in the Uji area, is a temple where you can experience "Fucha cuisine," which is said to be the Chinese evangelism dish that is transmitted to the Obaku sect. Fucha is a vegetarian dish, but it has a gorgeous look that incorporates the elements of Chinese cuisine, and it has a solid flavor with oil. The method is different from the one-person set meal in Japan, and four people surround one table and share the dishes on a platter. "Modoki", which uses Kyoto vegetables to look like meat or fish, is full of ingenuity that makes it fun.
The vegetarian cuisine that has been handed down in Kyoto since ancient times. When you visit Kyoto, please try the authentic exquisite vegetarian food.
* Please note that the information in this article was written or published and may differ from the latest information.